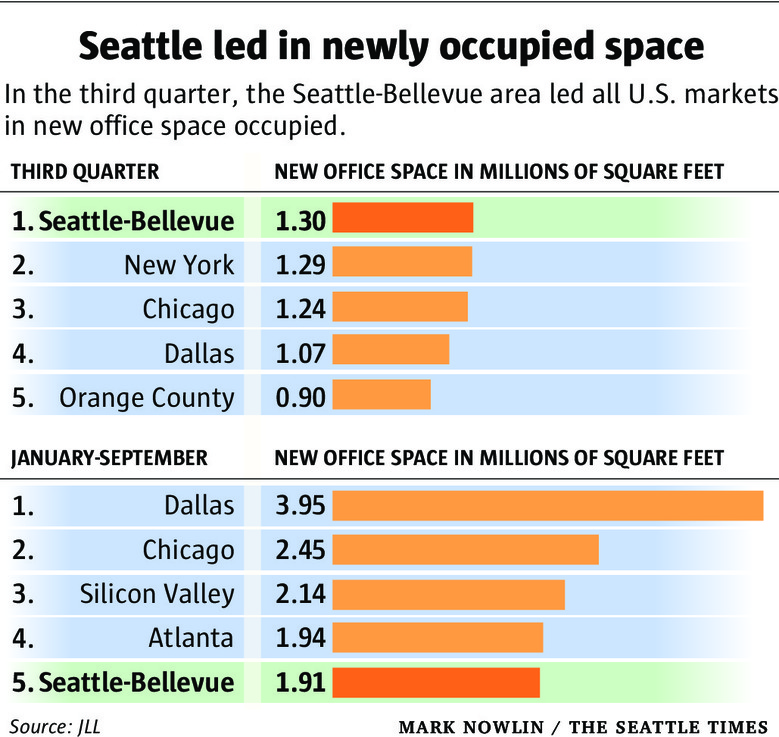 Seattle Leads the Nation in Demand for Office Space
The Seattle-Bellevue metropolitan area led the nation in the absorption of office space during the third quarter of 2015, adding nearly 1.3 million square feet of leased space. As a result, the vacancy rate for Class A space to fell to 7.8 percent in downtown Seattle, and 10.8 percent in Eastside. The tightening market has pushed rents higher; Seattle's $38.26 per square foot average rent for Class A space at the end of the third quarter represents a 9.7 percent increase from a year ago. Much of the demand for office space in Seattle has come from the city's largest tenant, Amazon.com. Amazon is expected to occupy over 6 million square feet by the end of this year, not including the 1.9 million square foot, two-tower complex it currently has under construction in the city's South Lake Union neighborhood. Demand for space from the many other firms seeking to open office space in the city is fueling many speculative office projects in the region, including 4.5 million square feet of office space in buildings currently under construction. Major investors are taking notice of the long-term potential of the Seattle market, including Blackstone Group, which bought GE Capital's local portfolio of nearly 2.3 million square feet for $360 million in July.
Vornado Celebrates Strong Third Quarter
Vornado Realty Trust continued to make a splash in the Manhattan office market during the third quarter of 2015. During that period, the REIT signed leases for 509,000 square feet of Manhattan office space at an average rent of $79.80 per square foot. Of the newly leased space, 69,000 square feet were booked at rents over $100 per square feet. The company has benefited from rising rents due to Manhattan's vacancy rate falling to 9.7 percent, the lowest rate since the 2008 financial crisis. David Greenbaum, president of Vornado's New York division, explained that while the TAMI (technology, advertising, media, and information tech) sector remained strong, the FIRE (finance, insurance, and real estate) sector was increasingly active in seeking new office space. The third quarter was also marked by the company bolstering its presence in the West Chelsea office market by acquiring the Otis Elevator building, just south of the Related Companies' Hudson Yards development. The acquisition was one of a number of recent moves the company has made in the West Chelsea market, which include developing a 10-story retail/office building, and a joint venture to develop a 175,000 square foot office tower overlooking the neighborhood's famed High Line. As the company seeks to "dominate" the West Chelsea submarket, Vornado's CEO Steven Roth noted that he expects holdings there to soon command rents similar to Midtown's more traditional submarkets.